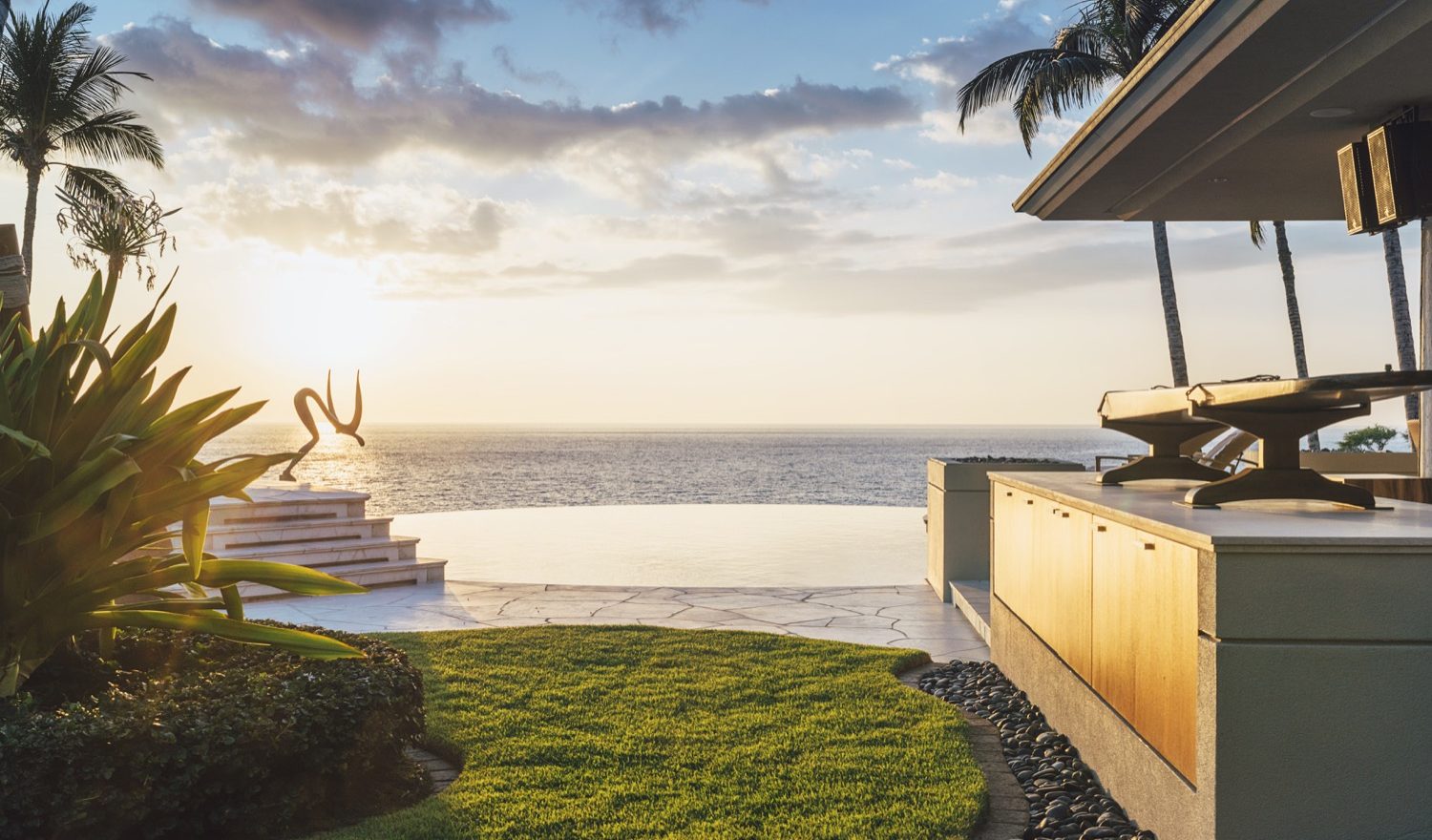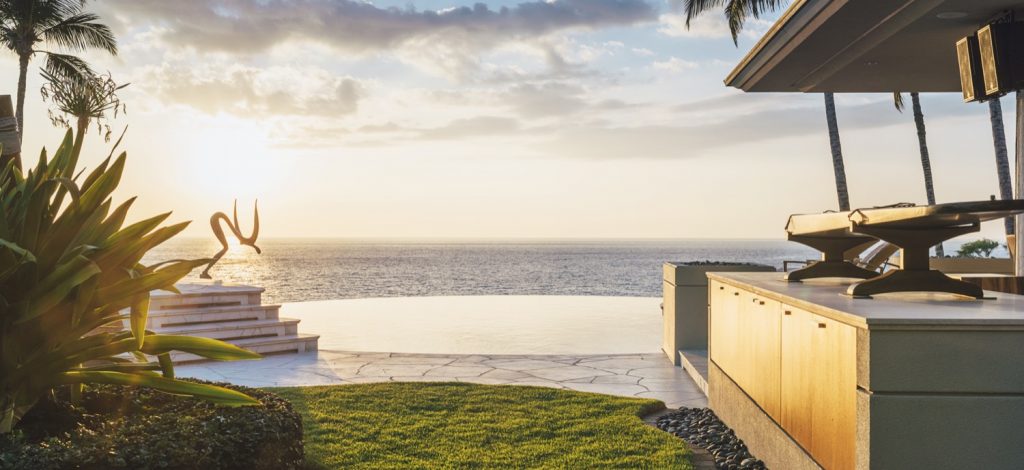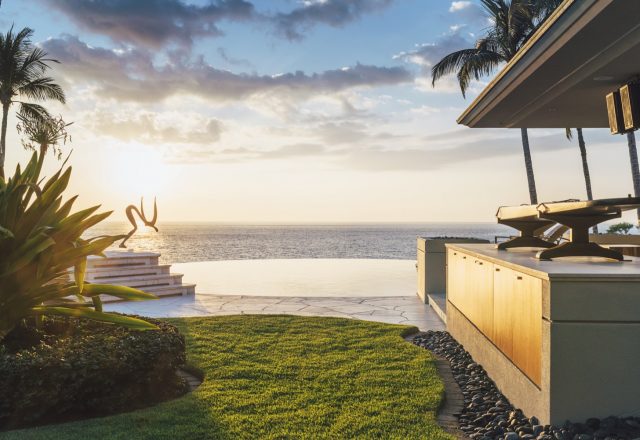 Indulge yourself in the ultimate island-style luxury at the Big Island of Hawaii's most exclusive retreat,  Experience breathtaking sunsets, and enjoy the natural beauty of Hawaii from the ultimate poolside lanai perched on the cliffs above the blue expanse of the Pacific Ocean.  Located on two lots in the private, double-gated community of the Low Bluffs of Hapuna Beach, the property is adjacent to two of the world's best beaches and resorts Mauna Kea & Hapuna Beach.
The nearly 16,000 square feet of stunning architecture blends seamlessly with the beautiful, natural environment of Hawaii.  Located throughout the 2.5-acre grounds are three ponds filled with rare breeds of vibrantly hued Koi fish, stunning sculptures to captivate the senses, four exceptionally appointed guest pod-style villas, a fully equipped gym with steam room and massage room, a large custom theater, game room complete with pool table, game theater, Chef appointed commercial kitchen, comfortable residents kitchen with outdoor dining for up to 30 guests. An amazing spot to start and end the day – the expansive infinity-edged pool with adjoining hot tub overlooking the beauty that is Hawaii.  Accommodations can sleep up to 20 adults and 10 children at Hapuna's Gem (rates based on 20 guests inquire for more guests).
The beautiful expansive master pod-style villa "Kilohana Koholo", houses a custom-made ultra king-sized bed (9'x10′), a private office & breathtaking ocean views along with its own private calming natural spa.  Offering the finest in comfort & multimedia amenities, includes three baths, A/C, a ceiling fan, a safe, extensive his & hers closet spaces, a TV, a CD Player, iPod Dock & telephone. Free wifi included.
Hapnua's Gem Bamboo, Mango, and Koa guest pod-style villas, each named for the revered Hawaiian wood of which they are built, feature an upper-level master suite in addition to two ground-level suites.  Each guest villa master suite provides a king-size bed with each of the two guest suites appointed with a pair of queen-size beds.  Each villa may be converted into an indoor-outdoor concept with a lanai & seating area overlooking the beautifully manicured grounds and the ocean beyond. All fully appointed suites offer a suite bathroom, TV, CD player, iPod Dock, AC, safe, and telephone. Each villa's suite conveniently has its own private access to a villa-shared launderette & kitchenette.
Our fully appointed gym provides a great selection of fitness equipment & facilities, including a Yoga & Pilates area, a steam & massage room. All in a comfortable air-conditioned environment overlooking the Koi ponds and the property beyond.  The majestic monkey pod wood table overlooks the inviting pool and large lanai for an unforgettable dining experience.  The dining area is large enough to seat 30 guests comfortably and the gentle trade winds create a perfect temperature for relaxing and unwinding over a great meal. At night with the torches glowing and the soft lighting of the pool as a backdrop, you may never want to step away from the table.
Perhaps the most exclusive lounge on the Big Island is the Beach Bum Bar. Located adjacent to the outdoor dining area & outfitted with one-of-a-kind vintage surfboards and art, the open-air lounge & bar take you back to an earlier era in Hawaiian history.
The expansive chef's kitchen houses every commercial-grade cooking appliance that a chef could want. Flat top, gas-fired commercial range, wood-burning pizza oven, walk-in freezer, walk-in refrigerator, pantry, and more.  The outdoor BBQ area located adjacent to the commercial kitchen houses a top-of-the-line gas grill, as well as a unique wood-burning BBQ to ensure that your outdoor cooking needs are met.
Concierge services may be arranged to enhance your vacation including; transportation, massage, Yoga classes, boat trips, deep-sea fishing, dermatology and other spa treatments, restaurants & performance reservations, security needs, event & party planning, private gourmet chefs, food, bar services.
Points of Interest on Big Island
Mauna Kea Golf Course - 2.7 mi
Mauna Kea Beach - 2.7 mi
Hāpuna Beach - 3.4 mi
The Shops at Mauna Lani - 7.9 mi
Four Seasons Resort Hualalai - 21.5 mi
Kona International Airport - 27.3 mi
Amenities
Pool
Jacuzzi
Air Conditioning
WiFi
Additional Information & Disclosures
Departure Cleaning Fee: $5,000
Refundable Security Deposit: $30,000
Other: