January 18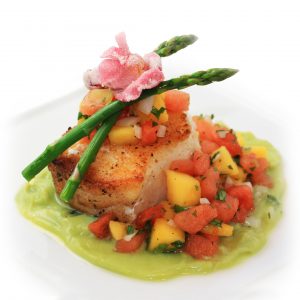 From our beautiful beaches, to the breathtaking scenery at every turn, it's little wonder that Hawaii consistently tops most vacation bucket lists. An often unexpected bonus for Hawaii vacationers is the epicurean adventure that awaits them here in our beautiful state. Guests staying at our luxury vacation rental properties in Hawaii often ask our concierge for dining recommendations which can be a challenge since there are so many incredible options to choose from. Today's post highlights some of Hawaii's finer dining establishments, all of which are sure to treat your taste buds to an unrivaled culinary experience.
Maui
Chef's Table – The Mill House
The Chef's Table at the Mill House Restaurant on the Maui Tropical Plantation makes for a truly unique and intimate evening filled with original faire in one of Maui's most beautifully lush settings. On Friday and Saturday evenings, Chef Jeff Scheer invites diners to enjoy an interactive experience as he and his staff prepare and plate seven delicious courses made with locally sourced ingredients, some of which are grown on the plantation grounds. There is no menu at the Chef's Table evenings, and dishes are often decided upon just a few hours before start time as they are typically selected based on whichever ingredients are freshly available through partner farms and providers each day. If you are staying in one of our luxury vacation rental homes on Maui, this is a one-of-a-kind dining experience is not to be missed! The Mill House is located at 1670 Honoapiilani Hwy, #2 Honoapiilani Hwy, Waikapu.
Morimoto
Perhaps familiar from his appearance on The Iron Chef television show, Chef Masaharu Morimoto is well-known here in Hawaii and throughout the international community for his signature style which seamlessly blends the cuisine of his native Japan, with an exciting Western appeal. His award-winning restaurants are just as well known for their architectural design as they are for their menus which have contributed to the success of his restaurants in Florida, New York, Las Vegas, Mexico City, New Delhi and Mumbai. Morimoto Maui is located at 3550 Wailea Alanui Drive, in Wailea. The Kakuni and Sea Urchin Carbonara and the Braised Pork Belly both come highly recommended.
Big Island
Canoe House
If you're staying at one of our luxury vacation rental properties on Hawaii Island, the Canoe House Restaurant is a must! Chef Allan Nagun adds an artisanal flair to Hawaii Regional faire using only the freshest locally grown ingredients. Any day of the week is special at the Canoe House but Thursday through Saturday evenings guests are treated to a blind tasting menu known as "The Captain's Table". Exciting seasonal dishes with 85% locally sourced greens, fish and meats are prepared as diners look on while interacting with the Chef himself as well staff and other patrons. Each course is paired with wines chosen by the Chef and an experienced Sommelier. The Canoe House is located at 68-1400 Mauna Lani Drive, Kohala Coast.
ULU Grill
Located at the Four Seasons Resort, the ULU Grill and Sushi Lounge is one of the area's most popular restaurants. With a focus on sustainable dining, ULU sources ingredients from more than 150 Hawaiian farms and fisherman to blend together Asian, Polynesian and Pacific Rim styles ensuring that 75% of their incredible dishes are grown, raised or caught right here in Hawaii. Guests are treated to exquisitely flavored dishes in an open-air setting, steps from the ocean, with private terrace dining options also available. The crab pot stickers in coconut curry sauce get rave reviews as does the chocolate soufflé. The ULU Ocean Grill is located at 72 – 100 Ka`upulehu Drive, Ka`upilehu-Kona.
Oahu
La Mer
A favorite of guests staying at our vacation rental properties on Oahu, La Mer is recognized as one of Hawaii`s top-tier five star dining establishments. This award–winning restaurant in the heart of Honolulu delights diners with its south of France inspired menu, made with fresh local ingredients. With sweeping views of the water, Diamond Head and Waikiki; and a wait staff that leaves nothing to chance, La Mer combines delicious food with ambiance, and is the perfect setting for a romantic evening out. The Foie Gras is their standout dish with some diners claiming it`s the best they`ve ever had. La Mer is located at 2199 Kalia Road, Honolulu.
Chef Mavro`s
Chef Mavro`s is another award winning restaurant that has guests returning year after year thanks to Chef George Mavrothalassitis`s culinary expertise which blends Hawaii Regional cuisine with inspiration from his native Provence. Winner of the prestigious James Beard award among many others, the restaurant is ranked as one of the top 40 in the country, and Chef Mavrothalassitis has been listed as one of the most influential French chef`s working in the US. Committed to cooking with only the best and freshest local ingredients, Chef Mavro combines contemporary French cooking with Hawaii Regional cuisine for a result that will not disappoint. A sommelier is on-hand to help guests pair wine with their entree choices and Chef Mavro himself makes the rounds to interact with his guests. While the Provence-style roasted lamb loin comes highly recommended, the restaurant also has an exceptional vegetarian menu. Chef Mavro`s is located at 1969 S. King Street in Honolulu.
Kauai
Dondero`s
Overlooking the ocean at Shipwreck Beach, Dondero`s is reminiscent of a Tuscan villa in the midst of a tropical paradise. With both garden and ocean view seating, Dondero`s can`t be beat for scenery, and the Northern Italian style cuisine is second to none. Try the Chicken Piccata or the Lobster and Crab pasta as both receive high praise from past diners. Dondero`s is located inside the Grand Hyatt at 1571 Poipu Road in Koloa.
The Beach House
Dine Oceanside on Kauai`s south shore at the popular Beach House Restaurant. Guests staying in our luxury vacation rental properties on Kauai love the Beach House for both it`s incredible location, which promises unrivaled view of Hawaii`s spectacular sunsets; and Chef Marshall Blanchard`s innovative Pacific Rim cuisine. The Macadamia Nut Crusted Mahi Mahi comes highly recommended and the Mai Tai`s are considered the best on the island! The Beach House is located at 5022 Lawal Road in Koloa.
Molokai
Cane & Canoe
Traditional Hawaiian canoe houses of days gone by are the inspiration behind the decor at Cane & Canoe and the cuisine is Hawaii Regional fused with Asian inspiration. Locally grown produce and fresh Hawaiian seafood take center stage on the menu and we recommend the Kamachi Poke, with the Berkshire Pork Belly coming a close second. Cane & Canoe overlooks Kapalua Bay making this an ideal location to catch one of Hawaii`s famous sunsets. Cane & Canoe is located at 1 Bay Drive, in Lahaina.
Eating House 1849
Largely considered the founder of Hawaiian fusion cuisine, Chef Roy Yamaguchi has been creating unforgettable dining experiences in Hawaii since 1988. Winner of the James Beard award, Roy`s simple yet signature style dishes have ranked him among the country`s top chefs. Guests at our Molokai luxury vacation rentals love the Butterfish Kamameshi hot pot, and the chocolate soufflé! The Eating House is located in The Shops at Kukuiula at 2829 Ala Kalanikaumaka Road in Koloa.
Lanai
One Forty
Last, but certainly not least leaves the beautiful island of Lanai. If you are looking for a five-star dining experience, you won`t want to miss One Forty. The name pays tribute to the island's 140 square miles of beautiful landscape, and their claim to fame is the medium steak served at precisely 140 degrees. Seafood is caught just off of the shoreline and much of the menu`s ingredients are locally sourced for sustainability. Overlooking Hulopoe Bay, One Forty and executive Chef Marcus Stewart win diners over with the flavorful menu and picturesque scenery. Try the Spicy Ahi Poke or Guava Barbecued Baby Back Ribs. One Forty is inside the Hotel Lanai at 828 Lanai Avenue, Lanai City.
Lanai City Grill
Guests at our Lanai luxury vacation rentals can consistently count on the Lanai City Grill for a meal worth raving about. With an open-air setting and a menu that doesn`t disappoint, diners are treated to Hawaiian charm and flavorful dishes which highlight fresh regional ingredients. Located inside the Hotel Lanai at 828 Lanai Avenue in Lanai City, the City Grill is a must for area visitors. Try the Lobster Bisque or the Truffle Macaroni and Cheese!
Do you have any recommendations for dining in Hawaii? If so, let us know in the comments section below. In the meantime, our concierge is always on hand to assist with reservations and anything else you may need. We hope you enjoy your stay here in Hawaii. Aloha!

You can skip to the end and leave a response. Pinging is currently not allowed.