August 19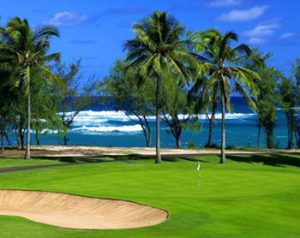 It's no secret that Hawaii boasts some of the best championship level golf courses in the country. The PGA and LPGA choose Hawaii to host several of their events, and for good reason. Hawaii's year-round balmy and beautiful climate practically guarantee that weather won't be a issue, but there are several other factors that make Hawaii the best choice for a golf vacation, and we've listed just a handful of them here. Without further ado, read on and discover what makes golf so much better in Hawaii!
Accessibility & Variety
With more than 70 courses available, you're sure to snag a decent tee time. And as they say, variety is the spice of life. Hawaii has courses designed for all levels of play. There are less challenging courses for beginners, a glow-in-the-dark evening scramble for the adventurous, and plenty of advanced courses for those at the top of their game. You can read up on some of Hawaii's best golf courses here: http://hawaiihideaways.com/hawaiitravelblog/2014/04/hawaiis-most-popular-golf-courses-2/
Scenery
From panoramic ocean views, lava fields, waterfalls and an endless array of lush flora and fauna, there is no denying that the scenery on Hawaii's golf courses is nothing short of breathtaking. In addition to the amazing views provided by mother-nature herself, you'll also bear witness to a host of wildlife not found on other courses in the country. It's not uncommon to see wild goats, albatross, pheasants, peacocks, deer, and if you're ocean side during whale season, you're likely to catch a glimpse of these majestic creatures as well.
Signature Courses
Wonder why Hawaii is a Mecca for golfers the world over? It's not just the PGA that recognizes our championship level courses among the best you'll find. With names like Greg Norman, Ted Robinson, Jack Nicklaus, Robert Trent Jones Jr. Bill Coore and Ben Crenshaw, behind some of the course designs, Hawaii's courses offer golfers an unparalleled opportunity to challenge themselves on high-quality greens designed by some of the best in the game.
Food
Since there's nothing quite like a cold drink and a decent meal after 18 holes, you'll appreciate that Hawaii's golf courses give as much attention to the restaurant menus as they do to the course design. From traditional Hawaiian staples like poke, to more casual faire like burgers, Hawaii's courses are known for their impressive menus which boast something for every palate.
With so many options for a golf vacation, it can be difficult to choose a destination, but as you can see from the above, Hawaii really does have it all. What could possibly be better than golfing in Paradise? We hope to see you here soon! Visit www.hawaiihideaways.com to learn more about how we can help plan your Hawaii vacation.

You can skip to the end and leave a response. Pinging is currently not allowed.