June 17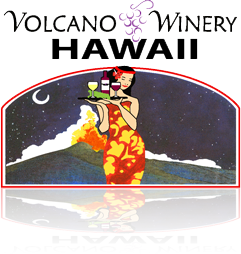 If you and your taste buds are looking for a uniquely Hawaiian experience, look no further than the Volcano Winery on the Big Island. Located next to Volcanoes National Park, it is the Big Island's only winery and one of just three in all of Hawaii.
Much like Kona coffee, there is something about Hawaii's volcanic soil that adds a unique flavor to everything grown here. Different from traditional wines, the Volcano Winery blends locally grown fruits with wine grapes to produce some incredibly palate pleasing libations. Blending sweet guava and the fruit of the Jaboticaba tree with grapes grown in their own vineyard for their estate wines, as well as grapes from California for their other blends produces award winning wines that scream paradise from the moment they touch the lips.
The Volcano Winery has something for both red and white wine lovers, and neither will leave disappointed. Their dessert wines alone are worth a visit and those looking for a truly unique flavor will fall hard for the Macadamia Nut Honey wine. You can't get any more Hawaiian than that!  In addition to their fabulous wines, they also grow some truly impressive tea. Like the fruit and grapes used to make the wines, their silver needles and white teas are all cultivated by hand and processed on-site. They've even created an infusion for those who want the added kick of caffeine the tea brings when blended with their wine.
A visit to the Volcano Winery will naturally take you to the Tasting Room where visitors can choose from the standard or premium tasting menus. The staff is both friendly and knowledgeable, and will treat you to a history lesson on both the wines and the region. If sipping like a sommelier while taking in an impressive view of Mauna Loa sounds like your thing, you won't want to skip out on a visit to Hawaii's Volcano Winery. They're open from 10 AM – 5:30 PM, 364 days a year.
To learn more about Hawaii's Volcano Winery, you can visit their website at: http://volcanowinery.com

You can skip to the end and leave a response. Pinging is currently not allowed.