December 6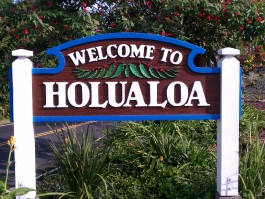 Located on the Big Island in a quaint village just minutes from Kailua, art enthusiasts will find a gallery with some of the most unique and incredibly beautiful pieces in Hawaii.
In the heart of Kona coffee country Holualoa Village has become a hub for some of the Big Island's most talented artists and a trip to Hawaii would be incomplete without paying this small yet funky art community a visit.
If you manage to make it out to Holualoa, your first stop should be the Cliff Johns Gallery. What makes this a must-see is a combination of the unique pieces you'll find inside, with what you'll see on the outside as well.  The front porch of this particular gallery is where you'll often find artists on display. It's not uncommon see painters hard at work on a canvas, or to find Cliff Johns himself woodturning for all to see.
Originally from Seattle, Cliff Johns was a successful carpenter by trade. After years in the restaurant construction business, he rediscovered his love of woodworking when his mother gave him an old platter he'd made as a boy in a high school shop class. Shortly thereafter, Cliff relocated to Hawaii where he built his studio and he's been woodturning ever since.
Cliff's art is influenced by his surroundings and he considers himself fortunate to be able to work with the beautiful woods found here in Hawaii. Always conscious of environmental impact, Cliff's pieces are made of wood collected from arborists and landscapers, as well as from land that's been cleared for development. His work has won him recognition and acclaim in his field, and he most recently won both the Artist's Choice and People's Choice awards at the Big Island's Wood Turners Show.
The Cliff Johns Gallery is home to a collection of Johns' own work but remains a showcase for other local artists as well. You'll find wood sculptures, paintings, furniture and other unique Hawaiian crafts. If you need a break from the beautiful beaches in Hawaii, why not switch gears and take an excursion to explore the galleries in Holualoa village? The Cliff Johns Gallery is located at 76-5936 Mamalahoa Hwy., Holualoa, HI. You can visit the gallery's website at: http://www.cliffjohns.com/index.html

You can skip to the end and leave a response. Pinging is currently not allowed.