December 12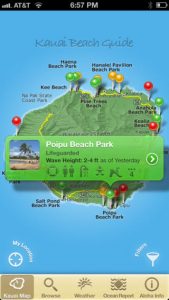 Hawaii is famous for its beautiful beaches and Kauai has more than 60 of them. Hawaii's beaches draw visitors from all walks of life. Some are looking to surf, snorkel or bodyboard, while others simply want to kick back and spend a day soaking up the sun with friends and family. These various needs are what led entrepreneur Vicki Sterne to develop the Kauai Beach Guide IPhone App.
Sterne is an experienced tour guide who channelled all of her knowledge in to the development of an app that serves locals as well as Hawaii vacationers. The Kauai Beach Guide app provides users with detailed beach information, daily surf reports, as well as weather updates.
Rip currents are always a concern when visiting the ocean and the Kauai Beach Guide app helps beachgoers make informed choices about which beach to visit on any particular day. The app allows users to filter their searches by safety, child-friendliness, swimming and snorkelling among others. Drawing on daily reports from NOAA, the Kauai Beach Guide ensures users receive the most up-to-date warnings and advisories. Because safety was a central focus during development, the app includes color-coded pins identifying which beaches are lifeguarded, and lists the hours they're on-duty.
Especially appealing to tourists in Hawaii, the app includes an interactive GPS map with driving directions to the beach of your choice, as well as instant access to information about nearby campgrounds and hiking trails. It even lists parking lots in close proximity to each of the beaches saving time, and removing the guesswork for out-of-area visitors.
While the app is also a helpful tool for locals, Sterne has designed it with the Hawaii vacationer in mind. Leaving nothing out, the app also contains an educational component. Users are treated to historical facts, photos, and a primer on Hawaii's coral reef and the marine life it supports.
Much more than a conventional Hawaii vacation guidebook, the Kauai Beach Guide App is a must have for anyone wanting up-to-date information on Kauai's beautiful beaches. The $0.99 app is available through the app store on ITunes. You can learn more here: http://www.beachtoolz.com/

You can skip to the end and leave a response. Pinging is currently not allowed.