July 3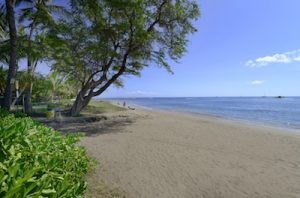 Some uncharitable folks label apartment complexes "beehives," because of their boxlike shape, uniformity of design, and ease of access. But you can't say that about a luxury resort like the Grand Wailea. The sprawling, 40-acre spread on Wailea Beach in Maui is designed for comfort – for pleasure – and not the workmanlike activities of hives and, OK, apartments.
But Grand Wailea is a home for bees. Yup, this luxurious resort houses a unique amenity: a rooftop beehive. The brainchild of managing director Matt Bailey, executive chef Eric Faivre, and director of landscaping James Heid, the project began in 2009 with five hives. Within a few years, the hives increased to ten. Why? Because the trio realized the bees were both unobtrusive guests (none of the humans guests were stung or harassed) and valuable.
After feeding on nearby flowers, the bees returned to their rooftop hive and produced—you guessed it—honey. This honey was then incorporated into chef Faivre's dishes. It was also bottled and sold to guests eager to take home this delicious, locally sourced treat. Pollinate, return, repeat.
Now, it seems the Grand Wailea has earned a reputation as more than a dazzling resort. Talk about creating a buzz.

Both comments and pings are currently closed.