July 9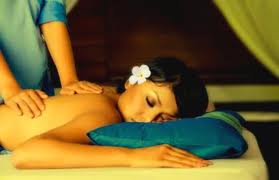 When you think of the lomi stick, don't think, "Sticks and stones may break my bones." Instead, think Dr. Feel Good. Developed by ancient Hawaiians for a variety of purposes, including for use as a walking stick, the lomi stick now serves primarily as a massage tool.
Made from locally harvested wood, the lomi stick's healing powers owe a great deal to the way its knotted grooves complement the knots on our backs. Of course, it helps to have a trained lomi stick masseuse working out the kinks and stress balls.
Still, the majesty of nature and the knowledge of ancient Hawaiians deserve a lot of credit.
Another person deserving of credit: Robin Williams of Hawaii's Ola, a Big Island company specializing in "natural and organic body spa and home products." According to Hana Hou! magazine, Williams developed a unique program via the  Lanakila Learning Center, an alternative school established by Hilo High School with the University of Hawaii at Hilo.
The at-risk youth educated at the school needed gas to for their mini-buses. Williams needed lomi sticks. The solution: Williams would buy the gas, if the students would forage for an invasive species called a waiawi tree and then turn them into lomi sticks.
The proposal fit perfectly with the teaching philosophy of the Lanakila Learning Center, which focuses on developing practical skills. And, as we pointed out in a recent blog, removing Hawaii's invasive species is a valuable contribution.
Note: If you want to experience the lomi stick crafted by these students, visit Maui's Kapalua Spa or Kaua'i's Anara Spa at the Grand Hyatt. You won't regret it.

Both comments and pings are currently closed.