May 2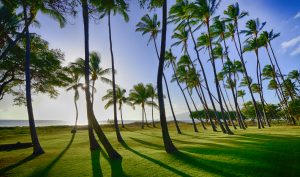 Say the word "Kona," and coffee drinkers the world over swoon. Grown in the Kona District on the Big Island, its rarity and high-price attract a particularly discerning type of coffee consumer – one who appreciates quality and is willing to pay for it.
But Kona coffee isn't the only player in the Hawaiian coffee game anymore. Recently, growers in Maui have begun to make a name for themselves by producing locally sourced, premium roasts with a flavor unique to their island.
Two such growers are Kula Beans and Piliani Kope Farm.  Located on the sky-kissing slopes of Haleakala, Kula Beans has been around for more than 20 years and produces its single-origin, eco-friendly (no herbicides, pesticides or artificial fertilizers) coffees from its 150 trees.  Like Kula Beans, Piliani Kope Farm is family-run and takes pride in its organic growing practices.  The Lahaina-based farm produces several specialty blends, including City and French.
Both growers provide tours to visitors. And given their scenic locales, a visit is well worth it, even if you're not java aficionado.

You can skip to the end and leave a response. Pinging is currently not allowed.