October 1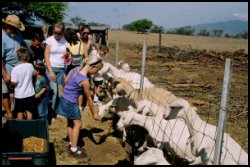 As you weave your way out of the sugarcane fields lining the slopes of Maui's Haleakala volcano, you come upon the lush green pastures of the Surfing Goat Dairy, Hawaii's newest caprine addition.
Owned and operated by German expatriates Thomas and Eva Kafsack, Surfing Goat Dairy represents one of only two goat dairies in the state. It is located on 42 acres with almost two-thirds dedicated as pasture, giving the Dairy's three bucks and over than 80 does plenty of space to roam and forage. Found on the leeward side of the mountain, the Dairy is protected from Hawaii's perennial trade winds, which comes as both a curse and a blessing. On one hand, the goats enjoy the resulting dry climate, with only an occasional winter rain storm; yet, on the other hand, the costs for underground irrigation to maintain the grass on 25 acres of pasture can be substantial, especially during the summer.
Inexpensive "Casual Tours" of the operation are offered daily. You need no reservation, just stop by. Price for the tour is $7 per person with a minimum of two people on each tour or $14 for a single individual.
"Evening Chores & Milking Tours" are Tues-Thurs-Sat at 3:15pm ($12/per person)
"Grand Dairy Tours", ($25/per person) Scheduled Saturdays at 9am – A 2-hour experience. Feed and milk a goat, see the cheese making process. Then sample most of the cheeses produced at the Dairy.
Hawaii Hideaways insures your little angels will have a blast! Great activity for those with children 5 years and younger. We at Hawaii Hideaways can assist you with your vacation holiday! Be it for business or pleasure, Hawaii Hideaways is here to help you! Please take a look at one of Maui vacation home rentals called "Ginger Passion".

You can skip to the end and leave a response. Pinging is currently not allowed.