September 9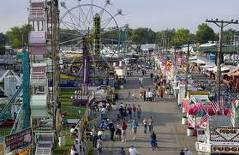 Admission is much less costly than most fairs around the country. General Admission:Adults $7.00,Keiki (children) ages 5-11 $3.00, ages 4 and under are FREE! The Maui County Fair runs Thursday, September 30 from 5pm. to 11pm. – Friday, October 1st. from 5pm. to midnight – Saturday, October 2nd. from 10am. to midnight and Sunday, October 3rd. from 10am. to 11pm. This event is always a treat for Maui residents so if you are on the island of Maui or have plans to visit during this time, we at Hawaii Hideaways would recommend you and your family stop by for some "local style" fun! Once a year everyone on the island comes together to enjoy good food, exciting rides, great live music by Hawaii's local performers, games, crafts and lots of fun.
A wide variety of rides for all ages groups. Even for the kid in you! From the Inverter to the Bouncy Fun House, the Zipper and the Pharaoh Swing, the Carousel and Bumper Cars. All of the rides cost from 3-6 tickets. Tickets go for a dollar each, or 12 for 10 dollars. The rides vary in length, judging by the screams!
One of the most fun things to do at the fair is cruise through the big tents to visit all the different booths and vendors. There's people selling  Maui souvenir trinkets, children photography packages, jewelry, koa wood items, Maui County information, water purifiers, and much more. Great place to purchase gifts for your loved ones back home.
The food at this event is pretty standard for fairs. Cotton candy, funnel cakes, sausage sandwiches, and fried everything! Some unusual items that you won't find at other fairs would be the Hawaiian Mixed Plates.
We at Hawaii Hideaways will be joining the rest of Maui at this fun filled event! We hope to see you there. If we can be of assistance in getting you here in time, please visit us!  Hawaii Hideaways offers a wide variety of luxury vacation rental homes on the island of Maui and it's neighboring islands. We have a full concierge service that is available 24 hours a day to meet all you vacation needs! Let us help make your next, or even your first visit to Hawaii the best it can possibly be!  "Sunsation" is one of our many stunning homes we offer on Maui.

You can skip to the end and leave a response. Pinging is currently not allowed.