August 3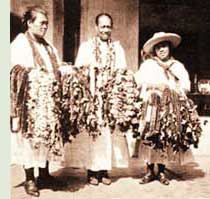 Hawaii Hideaways would like to share with you a little bit of history…Some interesting facts about Hawaiian lei greeting. Researching this in,formation has brought awareness to us as well!
The lei custom was introduced to the Hawaiian Islands by early Polynesian voyagers, who took an incredible journey from Tahiti, navigating by the stars in sailing canoes. With these early settlers, the lei tradition in Hawaii was born.
Leis were constructed of flowers, leaves, shells, seeds, nuts, feathers, and even bone and teeth of various animals. In Hawaiian tradition, these garlands were worn by ancient Hawaiians to beautify themselves and distinguish themselves from others. The Maile lei was perhaps the most significant. Among other sacred uses, it was used to signify a peace agreement between opposing chiefs. In a Heiau (temple), the chiefs would symbolically intertwine the green Maile vine, and its completion officially established peace between the two groups.
Was that not interesting? Hawaii Hideaways will be mixing it up every so often. To educate not only our readers but ourselves! We pride our selves on the knowledge we have of the Hawaiian islands and it's culture. We have a wide variaty of luxury vacation home rentals in the Hawaiian islands and staff that is eager to please! Check out one of our fabulous homes! We call this home "Vibrant Skies".

You can skip to the end and leave a response. Pinging is currently not allowed.