May 26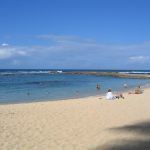 Location: Near Turtle Bay Resort on the North Shore of Oahu
This spectacular Bay is definitely a "to do" on the check list. Wonderful water conditions are perfect for every swimmer/snorkeler level. The outer barrier reef creates this protective and comfortable location. It's also highly desired by the magnificent honus (turtles) that regularly visit this reef. These Pacific Ocean visitors are generally not afraid of company. However, they are an endangered species so, please respect their space and keep a considerable distance between them.
Another great thing about Turtle Bay, is that even in the winter months, the conditions are still considerably mellow within the reef. You may experience a slight change in conditions but, it will still be comfortable enough to explore every day of the year. Just beyond the barrier reef, surf considerably rises and is not recommended for beginner or novice surfers. This spectacular bay receives an overall thumbs up for every beach activity!
Hawaii Hideaways offers Villas within Turtle Bay Resort. This private rental villas have direct access to Turtle Bay Beach – just steps away. Homes along Sunset Beach are just a short drive, about 10 minutes away.
Click on the image below for an aerial view and the location.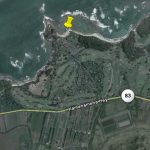 This beach is child friendly.

You can skip to the end and leave a response. Pinging is currently not allowed.