May 27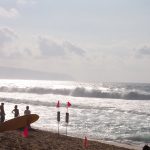 Location: 59-337 Ke-Nui Road, North O'ahu
Ehukai Beach Park is strictly for the adventurous and thrill seekers. The turbulent waves arrive during the winter months creating the immense and dangerous pipeline. The Professional surfers challenge their skills to ride the raging swells, creating one of the most spectacular sites to witness!
During the summer months the conditions become more inviting. Ehukai Beach becomes a tranquil playground and is even safe for the kids to swim. Native trees border the park supplying a natural awning for a delightful picnic!
Lifeguards oversee the beach park and provide daily updates on conditions as they arise.
Click on the image below for an aerial view and the location.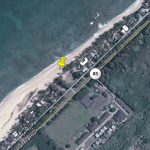 This beach has life guards.


This beach has extreme surf.


This beach offers showers.


This beach offers restrooms.


This beach has picnic areas.

You can skip to the end and leave a response. Pinging is currently not allowed.