March 10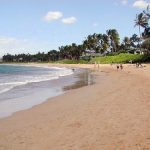 Location: Keawakapu Beach is one of the nicest beaches in Hawaii. This beautiful soft-sand beach is located in the heart of Wailea along S. Kihei Road. Public access is located at the intersection of South Kihei Road and Kilohana Drive.
Keawakapu beach is a half mile stretch of sandy beach fronting several of the most expensive homes on the South shore. These large estates, seen from S. Kihei Road, hide this favorite local spot. You can walk from one end of the beach (Sarentos restuarant) to the other, around the point, and pick up the Wailea resort walk-way which will take you past all of the Wailea resorts.
The sandy ocean bottom allows for great swimming conditions. A man made reef just about 400 yards offshore, increase protection from the strong swells. In addition, the inspired reef provides shelter for fish and a perfect exploration for beginner divers.
Generally speaking, this beach is very child friendly though during the Winter months, one should check rip currents or high surf advisory. Kona swells will cause higher than normal waves on this beach. Kona swells are most common in the Winter. Otherwise, take your snorkel gear, take an umbrella, there are waves onto shore for very mild boogie boarding. Hawaii Hideaways offers many wonderful property options in South Maui, conveniently located within walking distance or just a short drive to Keawakapu Beach.
Click on the image below for an aerial view and the location.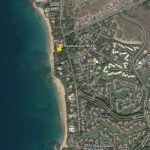 You can skip to the end and leave a response. Pinging is currently not allowed.