May 21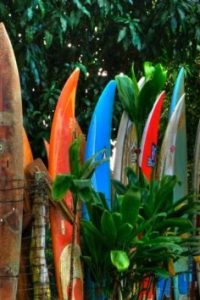 Long before California became the surf capital of the world, the ancient people of Hawaii were riding waves like today's pros! Known as he'enalu by the early Polynesian settlers, Hawaii is considered the birth place of one of the world's most popular water sports.
From our famous Banzai Pipeline, to our year-round tropical climate, Hawaii is practically made for surfing. In fact, Hawaii hosts several of surfing's most prestigious events and competitions making the sport a huge tourist draw for the islands. Visitors to Hawaii can head down to Oahu's north shore take in some of the action or look for some tamer waters and perhaps try their hand at the sport themselves.
A lesser known tourist attraction in Hawaii is the Haleiwa Surf Museum. It's no surprise that you'd find a surf museum in Haleiwa. This small community on Oahu's north shore is a surfing mecca thanks to the incredible swells along its shoreline. Opened in 1993, the museum houses an impressive collection of boards from the early 1900's to present day. It's a relatively small space, but what they lack in square footage, they more than make up for in surfing memorabilia. The walls are lined with posters and photographs documenting surfing in Hawaii.
The museum is a store-house of records, random facts and figures and truly celebrates the rich history of surfing throughout the islands. If you love surfing and are looking for a unique outing in Hawaii, you'll find the Haleiwa Surf Museum an interesting addition to your "To Do List". Located in the North Shore Marketplace at 66-250 Kamehameha Highway on Oahu's north shore, entrance to the museum is free of charge.  Contact the museum directly for more information including hours of operation at 808-637-3406.

You can skip to the end and leave a response. Pinging is currently not allowed.