April 22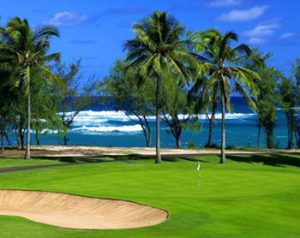 There's a reason the PGA and LPGA host so many of their events here in Hawaii. Not only are we blessed with a climate that allows you to hit the green any time of year, golfing in Hawaii comes with the added bonus of breathtaking scenery and some of the most revered championship level courses in the country.
Now don't worry if you aren't quite ready to go pro, there are courses here for everyone. In fact, Oahu alone is home to close to 50 of them! Hawaii's best golf courses are spread across the islands. Some are located on resorts, while others are public access. Since it would take far too long to list them all, we've waded through the reviews so you won't have to, and the list below includes some of the favorites.
Poipu Bay – Kauai
There is a reason this course was host to the PGA Grand Slam for eight years straight, and if it's good enough for the pros, you can bet you'll enjoy all this course has to offer as well. 85 bunkers and five water hazards are spread out across 210 acres of Hawaii's most breathtaking scenery. Lush greenery and panoramic views of the Pacific make this course just as enjoyable to look at as it is to play. Extras like citrus-scented refreshing towels, on-course beverage carts and GPS satellite equipped carts displaying hole and green information make this course the cream of the crop! http://www.poipubaygolf.com
The Prince Course at Princeville – Kauai
Golf Digest has called the beautiful Prince Course at Princeville one of America's greatest golf courses. Named after King Kamehameha IV and Queen Emma's son Prince Albert, this par 72, 18-hole championship course is located on Kauai and boasts magnificent views of the mountains and the ocean. Designed by Robert Trent Jr., the Prince course will challenge players of all levels. http://www.princeville.com/golf/prince-golf-course
The Club at Hokulia – Big Island
Just minutes away from Kailua-Kona, the club at Hokulia is a Jack Nicklaus Signature course that runs along the Pacific making for spectacular views. This is a challenging par 72 course that thanks to its sheltered location, is unaffected by Hawaii's temperamental trade winds and instead benefits from a cool ocean breeze. This is a private course so those of you looking to join a club will want put this on your list of courses to visit. http://www.hokuliaclub.com
Ko'olau Golf Course – Oahu
Located on Oahu, the Ko'olau course is considered one of the most beautiful in the country. Located in the midst of a tropical rainforest, waterfalls, ravines and spectacular mountains make it easy to see why Golf Magazine considers this one of the "Top 100 Places to Play". This 18-hole championship course is as scenic as it is challenging. Though it is one the toughest courses in Hawaii, it offers tees for all levels of play. http://www.koolaugolfclub.com
Wailea Golf Club – Maui
Golf Magazine and Golf Digest both rate Maui's Wailea Golf Club as one of the best in the country. The club has three par 72 courses making it perfect for players of all capabilities. With lush greens, intoxicating flora and unimpeded views of the Pacific, it's no wonder this is one of Hawaii's best golf clubs. http://www.waileagolf.com
These are just five of the best golf courses in Hawaii, but there are several to choose from. Our concierge will be happy to help find the right course for you. Golfing is just one of the many activities our concierge service can arrange for you. We hope you visit us soon! Aloha!

You can skip to the end and leave a response. Pinging is currently not allowed.