April 17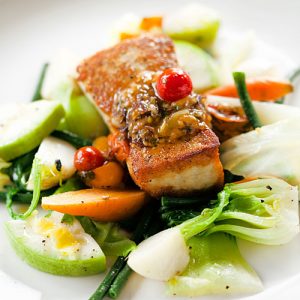 If the beautiful beaches, incredible scenery, and Aloha spirit weren't reason enough to book a Hawaiian vacation, we've got another for you. One word, FOOD.
Although we're not the least bit surprised, some of you "Foodies" might be. Hawaii is home to some of the best places to dine in the entire U.S., at least according to Yelp. As a primer for those of you unfamiliar with Yelp, the site is a collection of user reviews for businesses around the world. The recommendations found on Yelp are not the handiwork of a hired copywriter, marketing firm or even employees of the business in question. Yelp reviews are written by people who actually visit these businesses and are impressed (or unimpressed) enough to write a review to recommend or warn fellow consumers. Yelp stands behind the authenticity of the reviews on their site and uses technology like IP address tracking to weed out suspected fraudulent reviews.
Based on star rating and number of reviews, Yelp has compiled a list of the Top 100 places to eat in the country, and not only are nine of Hawaii's faves on the list, with a 5-star rating and more than 600 reviews, Hawaii's very own Da Poke Shack in Kailua-Kona took the top ranking! Below is a breakdown of what you'll find at Da Poke Shack, and the others on the list alongside their rankings.
#1 – Da Poke Shack, Kailua-Kona
Don't let the their 5-star rating fool you in to thinking Da Poke Shack is too swanky to fit in with your plans to lay low and chill out in Paradise. They've chosen to incorporate "Shack" in to their name for a reason. Unassuming on the outside and filled with Aloha spirit on the inside, what sets Da Poke Shack apart is their commitment to fresh ingredients and an unparalleled obsession with flavor. You can visit their website here: http://dapokeshack.com
#11 – Sushi Izakaya Gaku, Honolulu
Coming in at # 11 is Honolulu's Sushi Izakaya Gaku. Touted as the "Best Sushi in Hawaii" on sites like TripAdvisor, the food is sushi on steroids! The menu is simple, the ingredients are fresh and the service is impeccable!
#18 – Ono Seafood, Honolulu
Number 18 on the list and perhaps one of Hawaii's best kept secrets, Ono Seafood is a Pono lover's dream. The secret to their success will likely remain just that; a secret. Family owned, Ono Seafood prides itself on the fact that their faire is made to order. Food is never frozen, always fresh, and more importantly, always delicious thanks to their secret sauces!
#39 – Thai Food, Haleiwa
Opal Thai Food in Haleiwa Town Center took the 39th spot on Yelp's list. Formerly a food truck of the same name and featured on the Food Network's popular "Eat Street", Opal has flawlessly made the transition to a brick and mortar establishment much to the delight of the truck's regular customers. Rich flavor combined with personal service makes dining here an experience you won't soon forget.
#41 – Marukame Udon, Honolulu
Noodle lovers need look no further than Marukame Udon. They nabbed the 41st place on the list with good reason. Don't be surprised to find a line-up right out of the door when you visit – this place means business! Food is fresh, tasty and wallet-friendly!
#50 – Gestes Shrimp Truck, Kahului
#50 is the Gestes Shrimp Truck in Kahului. Voted "Best Food Truck" two years in a row, the food is so fantastic that we wouldn't be surprised if they opened up shop in a brick and mortar themselves. As their name states, Gestes is all about shrimp. They stick to what they know and they do it like no other! You can find them online here: http://www.gesteshrimp.com
#73 – Ono Tacos, Lahaina
Coming in at # 73, Ono Tacos in Lahaina proves that the best tacos in the world are not necessarily found in Mexico. Don't let the location fool you either. What looks like a road side food stand is actually one of Hawaii's most popular places to eat. The food is healthy, fresh, fast and out of this world!
#77 –  Dat Cajun Guy,  Haleiwa
Spot # 77 went to Haleiwa's Dat Cajun Guy, and rightfully so! This is yet another food truck that we hope opens up shop as a full blown restaurant. We imagine it would have no trouble packing the house night after night. Dat Cajun Guy proves that it is possible to find authentic Cajun / Creole food outside of New Orleans. Not only is the flavor worth standing in line for, the portion size and friendly service are just as praise-worthy!
 #82 – Pono Market, Kapa'a
The last Hawaiian restaurant to make the list is Pono Market. Established in 1968, the family owned Pono Market has been impressing patrons for decades. From musubi, to manju, sushi and poke, it is a guarantee that you will not leave Pono disappointed!
While we recommend booking a Hawaiian vacation long enough to dine at each and every one of these establishments, there are 91 others on the list so it looks like your travel calendar could get a little congested! To view the entire list, click here:  http://officialblog.yelp.com/2014/02/yelp-data-reveals-top-100-places-to-eat-bookmark-these-babies-now.html

You can skip to the end and leave a response. Pinging is currently not allowed.