March 19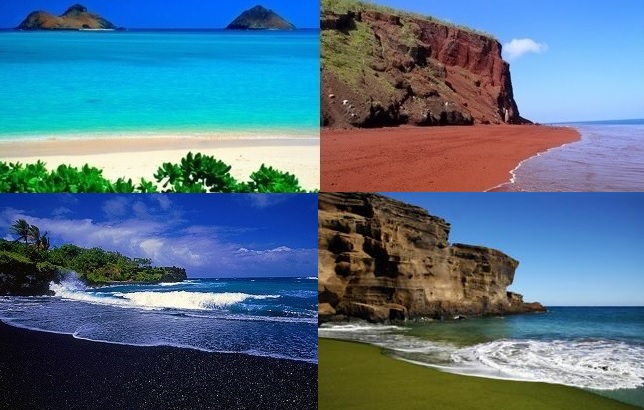 Rainbows are a common sight here in Hawaii, and not just on the ground.  The Paradise of the Pacific is also known for its multi-colored beaches. Sure, our gold and white sand beaches are the stuff that postcards are made of, but it's our red, black, and even green beaches that are the real show stoppers!
Our rainbow colored beaches are just one of the many natural wonders that make Hawaii so unique. While colored beaches can be found in various locations around the world, there are more of them in Hawaii than anywhere else. So what is it that gives Hawaii such a colorful variety of sand to sink your toes in to? In a nutshell, it's all about the volcanoes that gave birth to our beautiful state and the various minerals contained in the rock, cinders, and lava formations. Today's post intends to break down the mystery behind our colored beaches and fill you in on where to find them.
Red Sand – There are only a handful of red sand beaches in the world and Kaihalulu on Maui is one of them! The sand is a deep red thanks to Ka'uiki's cinders. It is the high iron content which turns red when oxidized that gives the rocks and sand their beautiful red hue.
Black Sand – Black sand beaches are made from small particles of volcanic glass. Formed by lava flowing in to the ocean and cooling to a sleek black glass as it hits the cold water, black sand beaches are made up of shattered and eroded particles of volcanic glass, also known as obsidian. While there are many beaches throughout the Hawaiian chain with black sand, only a few are considered true black sand beaches because of their high concentrations of volcanic glass. One of Hawaii's most popular black sand beaches is Punaluu Beach located just outside Naalehu on the Big Island.
Green Sand – Papakolea Beach on Hawaii's Big Island is one of only four green sand beaches in the world.  The Pu'u Mahana cinder cone on the bay's edge is high in olivine content which is known in gem circles as peridot. As the cinder cone continues to collapse and erode, the olivine is further broken down by the ocean in to the small particles which make up the beach.
Although Hawaii's landscape is already rich in vibrant colors thanks to its crystal blue waters and lush flora and fauna, you can always add a little more color to your vacation photos by visiting one of our beautiful colored beaches! Aloha!

You can skip to the end and leave a response. Pinging is currently not allowed.