February 20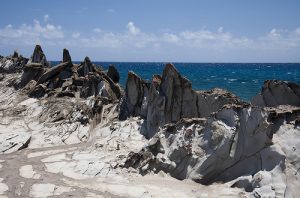 While you won't find real dragons on your Hawaiian vacation, you will find a unique rock formation that resembles their teeth! Located at Makaluapuna Point on Maui's northwest shore, Hawaii's Dragon's Teeth is an "off-the-beaten track" type of tourist attraction that's not to be missed.
Hundreds of years ago when the West Maui volcano was still active, it poured its lava in to the sea. Lighter and finer grained than most lava, a combination of sea swells and strong winds pushed it back in to the shore in an upward motion leaving it to cool in to the unique formations that remain today.  Because of their jagged peaks, the rocks quickly earned the name Dragon's Teeth.
The area is also the site of an ancient Hawaiian burial ground called Honokahua. This was discovered when the Ritz-Carlton began to build here prompting a three year battle that the resort eventually lost. It is estimated that there are over 1000 human remains at Honokahua, some of which date as far back as 610 A.D. Because this is considered a sacred place, visitors are asked to be respectful of the site and walk around the area that's been cordoned off.
The terrain is uneven and filled with caves and blow holes so you'll need sensible shoes to visit the Dragon's Teeth. You won't want to forget your camera either as there are spectacular views from this location and the area is also a known hang-out for our magnificent sea turtles!
If you'd like to visit Dragon's Teeth while here in Hawaii, take the Honoapi'ilani Highway NE, and make a left onto Office Road just past mile marker 30. Once you reach the end of Office Road, make a right and you'll find a small parking lot. Once there, you'll need to walk along the edge of the golf course to reach the Dragon's Teeth.

You can skip to the end and leave a response. Pinging is currently not allowed.