January 28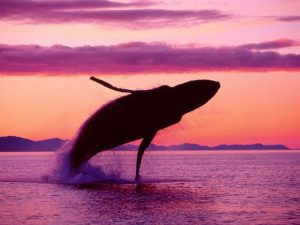 You may come to Hawaii for vacation, but the humpback whales who visit our beautiful state each year do so to mate and give birth to their calves.
Hawaii's official whale season starts in December and runs through to April however some whales have been spotted along the coastline as early as October. February is generally considered the best time to spot whales in Hawaii which is why the Maui Whale Festival takes place each year from February to March. Volunteers are stationed at various points along the coastline throughout entire whale season providing binoculars, scopes, as well as some great tips to help you spot the whales and their calves.
The Festival began as a means to raise awareness for these majestic marine creatures and thanks to the number of free activities offered throughout the season, the Maui Whale Festival has quickly become a much anticipated event for both locals and Hawaii vacationers alike.
February 15th is World Whale Day and the festivities begin with the family favorite "Whale Parade". Visitors line the street to catch a glimpse of the elaborate floats while costumed volunteers walk the route. This is followed by a full day of fun and activities at Kalama Park.
Visitors are also invited to attend a lecture series which showcases presentations from whale researchers around the world. One of the highlights of these is the "Whales under the Stars" evening. Greg Kaufman of the Pacific Whale Foundation invites you to spend a night with him as he provides an awe-inspiring multi-media educational experience.
The festival also hosts a Run / Walk for the Whales marathon with proceeds benefitting the Pacific Whale Foundation's Humpback Whale research program as well as marine education programs.
There is much to see and do here in this beautiful state but if you are planning to vacation in Hawaii during whale season, this festival has several activities that you won't want to miss!  To learn more about these and other events at the Maui Whale Festival, visit their website at:  http://mauiwhalefestival.org/

You can skip to the end and leave a response. Pinging is currently not allowed.